Humor as a coping mechanism (for me and my readers)
Cancer is no laughing matter. Nothing about it — from the shocking diagnosis to the prolonged recovery — is easy, and it's certainly not funny. That's precisely why I was determined to maintain my sense of humor throughout the ordeal.
As I composed my periodic reports to family and friends, I began to conclude each missive with a joke. They weren't necessarily great jokes. They weren't necessarily new jokes. Some might even say that Ralph and I favored quantity over quality. But the process of finding and composing them was a welcome diversion for me.
While the narrative conveyed my experience, the jokes sustained my self and symbolically kept my illness at arm's length. They were a coping mechanism that could elevate my spirits even on dark days.
For readers, they lightened the impact of my often-dire news and let people know I was not losing hope. I used them in the book as a kind of "send off" to my readers, as if to say, 'lest you think I'm down in the dumps, hah, here is one for you.'
I suspect that the jokes also relieved the stress of my readers. It's not easy to read about someone else's medical experience – the fevers, the counts, the rashes, and the meds. The jokes let them know they could connect with me as the person I've always been and not just as a cancer patient. And they regularly did so, alternately "complaining" about how bad the jokes were but whining if I ever forgot to include a joke!
Rather than "cancer jokes," I found more humor in bad puns, non sequiturs and double entendre. And so, in closing, I would just like to say: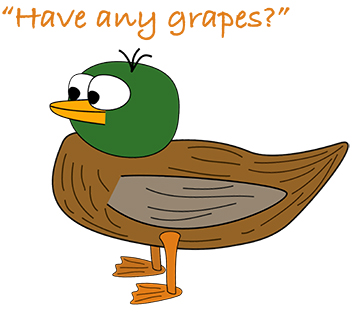 A duck walks into a bar, and asks the bartender, "Do you have any grapes?"
The bartender says, "No, we only sell beer here."
So, the duck leaves. The next day, the duck returns and asks the bartender, "Do you have any grapes?"
The bartender says, "No, and if you ask me again, I'm going to nail your bill to the bar."
So, the duck leaves.
The next day the duck returns and asks the bartender, "Do you have any nails?"
The bartender says, "No."
So, the duck asks, "Do you have any grapes?"